EHD Excavator
Buckets
Concrete
Pulverizers
Grapples
Strickland
T1 Demo
Custom Grapple
TP Series
Heavy Duty
WHD Grapple
Gripper
Hydraulic
LaBounty
Hydraulic
Hammers
Rakes
Stump Splitters
Thumbs
Compaction
Wheels
Rippers
Forks
Shears
Universal Processors
Quick Couplers
Plate Compactors
Snow Pushers
Sticks & Booms

Specifications&nbsp&nbsp&nbsp&nbsp&nbsp&nbsp2006 Pricing


| Gripper Model | Bottom Width | Top Width | Maximum Opening | Weight | Tines | Tine Thickness | Price |
| --- | --- | --- | --- | --- | --- | --- | --- |
| GG250 | 29" | 46" | 87" | 2,600 lbs | 3 x 4 | 1.5" | $ 5,900 |
·&nbsp&nbspThe GG250 excels at land clearing, house demolition and scrap applications. It can be set up for most excavators in the 40-65K weight range.
·&nbsp&nbspAll grapples include mounting pad and stiff arm package with pad, pins, arm assembly and sleeve assembly.
·&nbsp&nbspThe tines are constructed with lateral gussets, wear tips on the moving side, and square-tube box construction joining each tine together.
·&nbsp&nbspSince we manufacture these grapples, we can customize any widths, lengths, tine thickness, or number of tines to meet your needs.
·&nbsp&nbspWhen a grapple is ordered from the factory specifically for your machine, it can be constructed to be used as a complete grapple, or as 1/2 of a bucket/thumb combination.
·&nbsp&nbspMounting dimensions for the grapple can also be flexible to be moved from one machine to another, when specified in advance.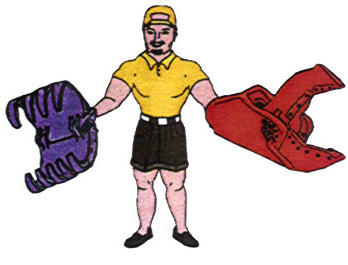 Ransome Equipment Sales, LLC
106 Ark Road, Lumberton, NJ 08048
Toll Free Phone: 888-726-7863 Phone: 609-975-8127 Fax: 609-257-3719
E-mail:&nbsp&nbspsales@ransome-equip.com