| | | | |
| --- | --- | --- | --- |
| | | | |
| Home | Attachments | About Us | Videos |
Welcome to the Ransome Equipment Sales' web site!
We specialize in buying and selling new and used construction equipment attachments.
Please use the drop box to view our product lines and available used attachments (including grapples, shears, pulverizers, etc).

Strickland Pulverizer

Ransome Stump Splitter

Excavator Rake

YSR Shear

T1 Demo Grapple

Strickland Grapples

YM Orange Peel

Excavator Thumb
(Click on the above attachments for more information)
Mission Statement
Ransome Equipment is committed to be the outstanding resource for your construction equipment attachment needs. Our goal is to utilize over 50 years of experience in the construction equipment business to manufacture, locate and source the attachments our customers need at the best value. Having once owned and operated a Caterpillar tractor dealership, we know what customers are looking for in the way of quality and professional support for their attachment needs without the corresponding overhead.
You can reach us at 856-797-8100
Located at:

Roland Aristone Building
890 East Route 70 Marlton, NJ 08053
Click here for directions

For new equipment and product specifications, please click here .
To see our full selection of available shears, please click here for the updated
Available Shears page. &nbsp&nbspRansome is definitely a "shear" genius!
Other available attachments and equipment include &nbspShear & Machine Combos &nbsp,
Universal Processors &nbsp, &nbspConcrete Pulverizers & Stump Splitters &nbsp, &nbspGrapples &nbsp,
&nbspClamshell Buckets &nbsp, &nbspOrange Peel Grapples &nbsp, &nbspHigh Reach Excavators &nbsp,&nbsp
&nbspLong Reach Excavators &nbsp, &nbspLong Reach Packages &nbsp,&nbspSpecialty Machines &nbsp,&nbsp
&nbspBIG Excavator Buckets &nbsp, &nbspUsed Buckets &nbsp,&nbspMiscellaneous &nbsp

&nbsp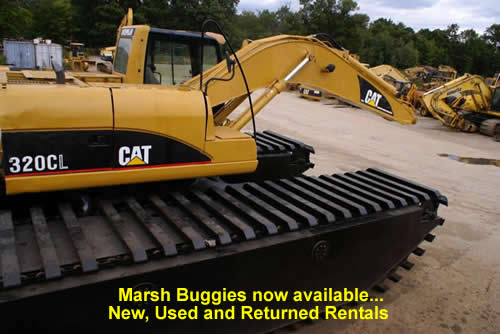 Click on photo for Ransome's Long Reach High Reach website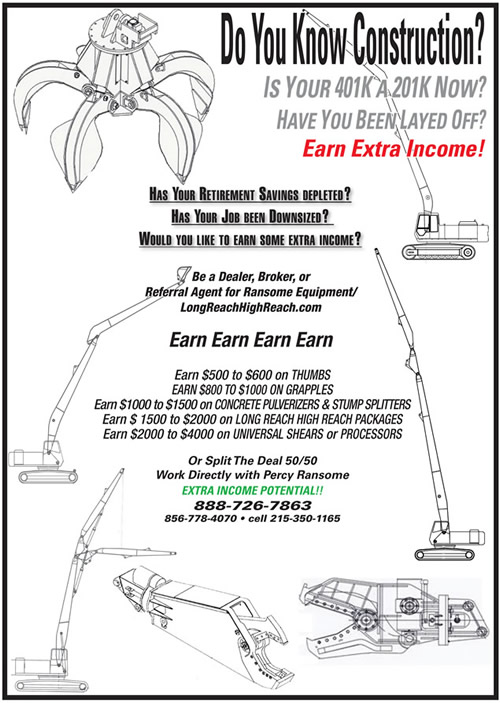 For Dealers and Independent Sales Reps

&nbsp To Customize our Literature / Spec Sheets
Please Note:&nbsp&nbsp&nbsp&nbspDue to escalating costs by our suppliers, pricing on the website is subject to change.
Customers should call the Ransome Sales office at 888-726-7863 for current pricing and specifications.
New or used machine attachments.....buckets, grapples, thumbs, shears, rippers, rakes, hammers and other attachments.

If you need construction equipment and/or attachments, we have it in our computer database or can locate it nationwide! We have thousands of pieces of construction equipment to choose from. Financing is available from Ransome Equipment for any construction equipment purchased.

We also specialize in helping our customers turn their excess attachments into CASH. Call us for more information!!
We are looking for new vendors and products from manufacturers worldwide!!
&nbsp&nbspServices Offered
Appraisals
Transportation/Hauling
Financing&nbsp&nbspClick to Learn More
Rentals
Credit Applications
Leasing
$100 - $1000 Reward
$100 - $1000 Reward for leads on the sale of attachments bought or sold by Ransome!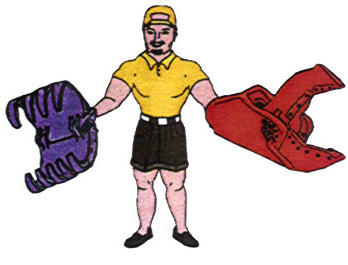 Ransome Equipment Sales, LLC
890 East Route 70, Marlton, NJ 08053
Toll Free Phone: 888-726-7863 Phone: 856-797-8100 Fax: 856-797-8108
E-mail:&nbsp&nbspsales@ransome-equip.com
Ransome Equipment website: www.ransome-equip.com
Long Reach High Reach website: www.longreachhighreach.com
Website Support: Web2k Consulting
Revised: 01/21/2015
&nbsp